This book is an autobiographical description of grief following the death of a husband at age 31 followed by a son whose was 17 when he was also killed in an accident. Her surviving son was suicidal for several years while she did everything possible to prevent his death as well. The deaths of Dr. Keith's younger brother, parents and in-laws are shared. A divorce from an alcoholic husband and a description of dysfunctional families and grief are included. Finally, prompts are provided to encourage the reader to compete their grief process enabling them to RENEW life in a positive way.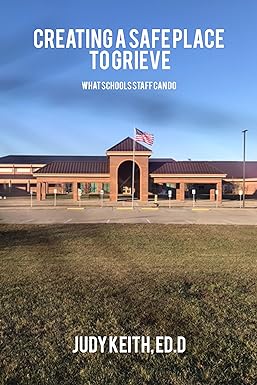 Creating A Safe Place to Grieve: What school staff can do provides comprehensive guidelines for counselors, social workers, psychologists, administrators and teachers in responding to grieving children and colleagues. These guidelines are based on best practices from the clinical literature and 34 years of professional experience by the author and school staff in 42 states following 9/11, hurricanes, tornadoes, floods, fires, school shootings, suicides, bus accidents, accidental deaths, and deaths from natural causes.
"Along the Road"

I walked a mile with Pleasure;
She chattered all the way.
But left me none the wiser
For all she had to say.
I walked a mile with Sorrow
And ne'er a word said she;
But oh, the things
I learned from her
When Sorrow
walked with me!
-Robert Browning
For More Information, contact:
Judy Keith, Ed.D.

RENEW Center for Personal Recovery, Inc.
1085 S. Dogwood Dr.
Berea, KY 40403
cell phone: 859-806-6236
E-Mail : renewctr@gmail.com
*Comments about this web site
Email: Webmaster